Choose Eye Doctor London to treat your Long-sightedness in London
LONG-SIGHTEDNESS
LONG-SIGHTEDNESS IS ONE OF THE MOST COMMON EYE CONDITIONS
Long-sightedness is a refractive error that can result in difficulty with seeing objects up close while objects in the distance remain clear.
Long-sightedness is known as hypermetropia in medical terminology. It means things in the distance are clearer than those for near. It is a type of refractive error.
LONG-SIGHTEDNESS SYMPTOMS
Objects in the distance appear clearer than those up close
Difficulty reading
Eye strain
Headaches
DISCOVER
YOUR EYE
TREATMENT
OPTIONS
Call us on: 020 7416 6731
VIDEO: WHAT IS LONG-SIGHTEDNESS OR HYPEROPIA?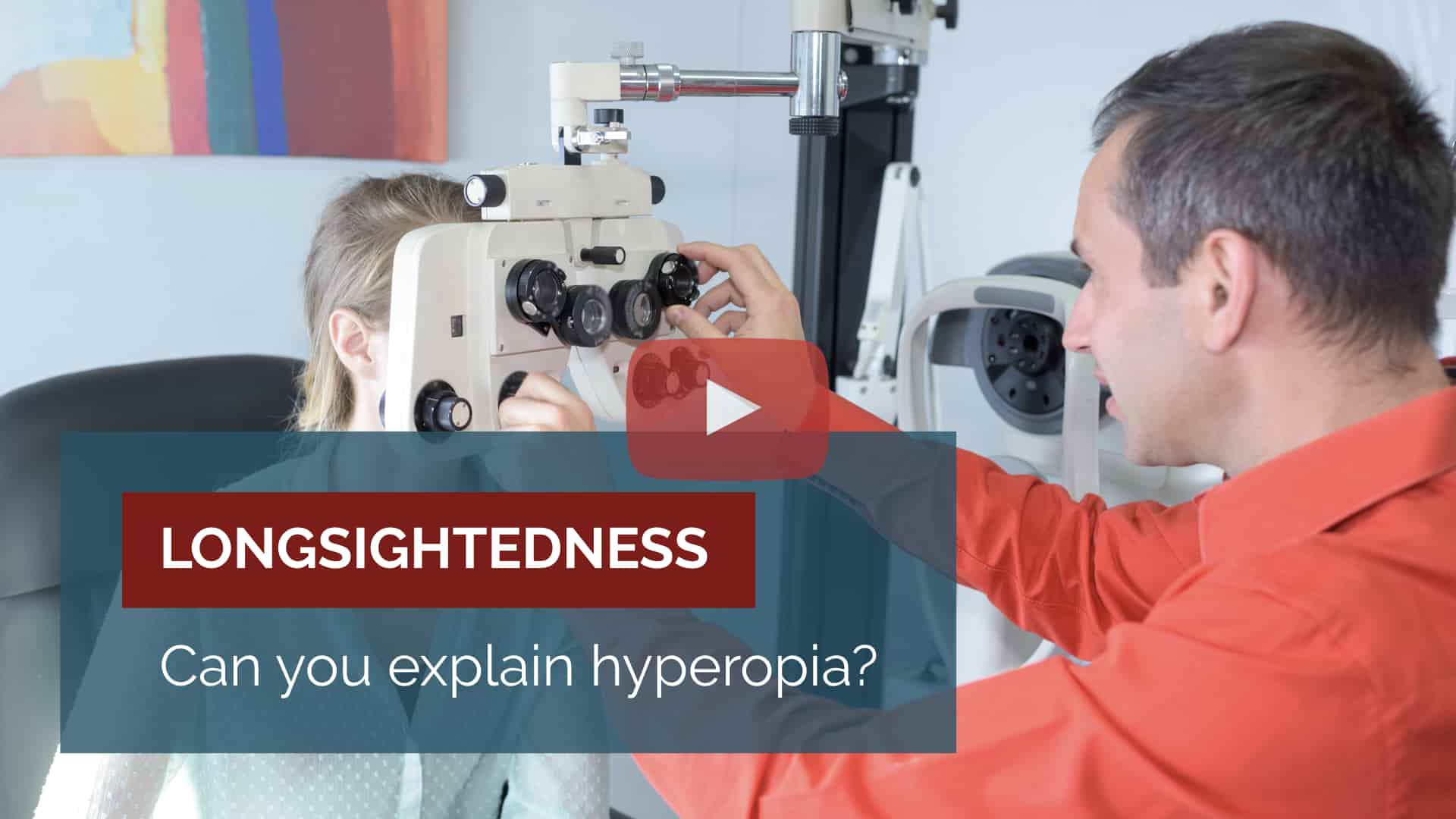 LONG-SIGHTEDNESS CAUSES
Long-sightedness happens because the light is being focused behind the retina (the film at the back of the eyes). This can happen because the eye is relatively short. Also, it can be that the cornea and lens do not focus the light enough to produce a clear image.
LONG-SIGHTEDNESS DIAGNOSIS & EXAMINATION PROCEDURE
You may already know that you are long-sighted (Hypermetropic). Diagnosis can be established with refraction and a careful eye exam. At times additional scans of the eye can be necessary to fully study the eye and how it is focusing the light.
LONG-SIGHTEDNESS TREATMENT
Hypermetropia can be corrected using laser refractive surgery and lens surgery. The laser works to make the cornea focus light more quickly allowing for light to be focused on the retina.
"I can't thank you enough for the treatment you gave me. Everything is fine now"
"I'm so pleased to be rid of my glasses, before I was blind without them"
"I was very impressed by the number of tests that were done. Mr Muen took his time in explaining things and I felt very reassured"
"Thank you to Mr Muen for working this magic"
"I have been wearing glasses all my life but now I don't have to, it's amazing"
"Thank you so very very much for my cataract operation, the colours are wonderful"
"I highly recommend Mr Muen, the service was excellent"
"Thanks to all the team for the kindness extended to me whilst having my cataract operation, with special thanks to Mr Muen"
"Thank you very much for my cataract operation, the colours are wonderful"
"Couldn't have done a better job with my squint, no problem with close work now"
"I'm very grateful to you for getting my eyes tested, the new prisms have sorted the double vision….it has given me great satisfaction"
FAQs ABOUT LONG-SIGHTEDNESS
Things in the distance appear clearer than near. Long periods of close work can be difficult.
Unfortunately, in most cases exercises do not work and refractive correction is necessary e.g. glasses.
Children need careful examination and follow-up for their refractive errors as they can be associated with squints or other conditions. Laser refractive surgery is not usually performed in children.
RELATED ARTICLES ABOUT EYE CONDITIONS
DISCOVER
YOUR EYE
TREATMENT
OPTIONS
Call us on: 020 7416 6731
ACCREDITATIONS AND MEMBERSHIPS